A protest in Sudan's capital Khartoum in solidarity with the families of people who disappeared on June 3, 2019, and in the days after. (cc) Aladwaa.Online | Ahmed Abdulghani | November 28, 2019
More than 100 people were killed within hours, and dozens disappeared when paramilitaries moved in to disperse a protest camp in front of the Army General Command in the centre of Khartoum on June 3, 2019. To this day, families search for their loved ones, months after their disappearance.
On June 3, 2019, heavily armed forces, dressed in military uniforms, dispersed protestors in front of the Sudanese the Army General Command in Khartoum using live ammunition leaving 127 people dead, injuring hundreds and, up to today, dozens of people are still missing. There were also reports of rape cases against several women and men.

Witnesses say that the shooting was indiscriminate and it came from different directions. They also say that the military forces fired in their path and that they were beaten with whips and sticks, kicked by the uniformed men, and their heads were pressed against the concrete until they bled.

Describing the events of that day, Kamal, one of the survivors, says that he was beaten and tortured and that he suffered many fractures. "These forces took me and those who were with me and made us walk in front of them. They were beating us and threatening to kill us as they did to others. There were many dead bodies, and some were still alive, but they could not move. Blood was everywhere."

Kamal added: "I cannot describe the ugliness of what happened that day no matter how often I talk about it. The conclusions reached by the investigation committee do not live up to the magnitude of the June 3 massacre."
"They threatened me with rape and death. I saw blood everywhere. I can't believe that I am still alive."

Lamia, a survivor of the June 3 massacre
Lamia, another survivor, says that she saw a large number of forces firing at protestors and kicking them with their feet and rifles. Many people died, Lamia says. "They threatened me with rape and death. I saw blood everywhere. I can't believe that I am still alive," she adds. "The real criminal who committed the atrocities against defenceless protestors must be tried."
Anxiety and tension are still haunting many Sudanese families whose relatives disappeared. The mother of Ahmad Mohamed Mahmoud told Aladwaa.Online that her son is a university student who used to go to the sit-in every day to join his colleagues, who took to the streets to demand their legitimate rights. He disappeared on June 3, and he has not come back home until today. "We searched for him in all places, including hospitals, morgues and police stations, but we did not find him. We call on everyone to help us in our search for Ahmad," his mother says.
Sumaya Othman, a mother of the missing Ismail al-Tajani, says she did not have any contact with her son since June 8, and she does not know anything about his fate until now. "Ismail was one of the young people who were present every day at the square, and his absence has turned our lives into hell."
"His absence has turned our lives into hell."

Sumaya Othman
Despite the shock living deep in the hearts of many who are missing family members, there are still glimmers of hope as a result of voluntary initiatives that are searching for the missing persons and figuring out what had happened to them. The search hasn't stopped to this date.


The 'Missing' Initiative
The 'Missing' Initiative is one of the voluntary initiatives launched by a group of young Sudanese to help the families of missing persons in their search for their relatives and to investigate the causes and places of their disappearance.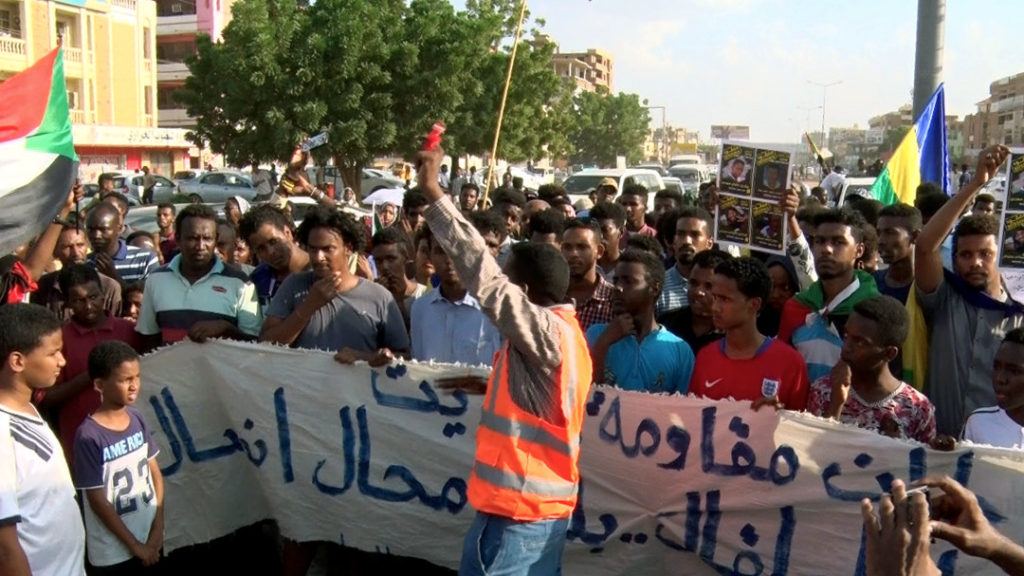 The initiative says that the number of missing persons exceeds 20. However, this number could rise because some families have not submitted official notifications to the police stations up to now to declare their relatives as missing.
Fadia Khalaf, a member of the 'Missing' Initiative, complains about the lack of cooperation of the Sudanese authorities with the initiative, especially concerning the search of missing people in hospitals' morgue departments that often receive unidentified bodies.


Governmental Endeavours
Under mounting popular pressure, demonstrations and convoys facilitated by neighbourhood and resistance committees in Khartoum, the Public Prosecution of the Republic of Sudan announced on September 18, 2019, the formation of a committee to investigate the disappearance cases.
The committee was formed according to the decision of the Attorney General No. 28/2019 and it is composed of the Attorney General, the Justice Ministry represented by the Human Rights Department, the Interior Ministry, the police forces, the Bar Association and the Violence Against Women unit.
The committee's tasks are to enable the families of the missing persons to file notifications on the disappearance of any person in the period from April 6 until October 1, 2019.


Things Cannot End This Way
Shawqi Abdulazim, a human rights journalist, believes that "the approach for searching for missing persons has had its shortcomings." Concerning finding missing persons in morgues, he said that "if a missing person is in a morgue, he should be discovered easily and not only after many months".
"If a missing person is in a morgue, he should be discovered easily and not only after many months."

Shawqi Abdulazim
He added that "the issue of missing persons needs police, security and criminal investigations to explore the reasons behind the disappearance and to find them. Things cannot end this way, because the least that should be achieved is recovering their corpses, or obtaining evidence of their death."
Abdulazim calls on the government committee to use witnesses, videos and pictures of the dispersal of the sit-in and to cooperate with voluntary organisations and families, to find out accurate details about the missing people in order to determine their fate.
Sudan's capital Khartoum and other cities across the country witnessed widespread protests calling for the end of the government led by ousted President Omar al-Bashir. The mostly peaceful protests and demonstrations were met with excessive violence by government forces loyal to the former regime at the time.
After months of protests, Bashir's 30-year-rule came to an end. During these demonstrations, hundreds of peaceful protesters were killed, and thousands were injured.